Onlinebutik
Utforska Dilmahs värld av te
Dilmah in Hospitality and Food service
Etik Och HÅLlbarhet
Dilmah Tea Inspired
Leisure and Hospitality
Kunskap & Utbildning
Onlinebutik
Dilmah Conservation launches - 'Common Butterflies of Sri Lanka'
Dilmah Conservation launches - Common Butterflies of Sri Lanka'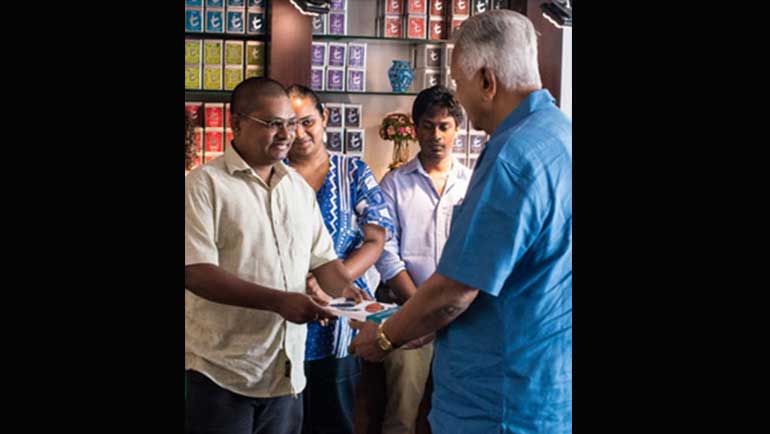 (Colombo, Sri Lanka - 07 February 2015) The hues and textures of tea from different terroirs in Sri Lanka found their match at the t-Lounge by Dilmah, in 246 butterfly species. Dilmah Founder Merrill J. Fernando and his son Dilhan hosted scientists and media at the launch of Dilmah Conservation's most recent publication, - Common Butterflies of Sri Lanka' - authored by Himesh Jayasinghe.
Dr. Nirmalee Pallewatte, Senior Lecturer and Head of Zoology Department, Faculty of Science, University of Colombo who reviewed the book, spoke of the importance of butterflies in nature, whilst Jayasinghe shared his passion for the creatures. Speaking for the Dilmah Conservation Advisory Panel, Dr. Sumith Pilapitiya - Lead Environmental Specialist at the World Bank, outlined the richness of the island nation's biodiversity and importance of conserving it.
The first copy of the book was presented by the author to Dilmah Founder Merrill J. Fernando who spoke of how so many take Nature for granted, little realizing how rapidly the beauty of butterflies and other features of the Sri Lankan environment are disappearing. His son Dilhan echoed these sentiments in explaining the Dilmah philosophy of making business a matter of human service. He explained that the obligation to share the success of Dilmah was embedded within his father's business model for Dilmah, having started as a commitment to humanitarian service and extended in 2007 to the environment.
This illustrated field guide featuring 100 of the most common butterflies found in Sri Lanka was authored by Himesh Jayasinghe, an independent researcher in the field of ecology with special focus on butterflies and their conservation, and the founding president of the Butterfly Conservation Society of Sri Lanka. The guide provides comprehensive information on identification, habitats, habits and diet for amateurs and enthusiasts alike to learn more about Sri Lanka's diverse butterfly species.
Dilmah Conservation acknowledged the role of the International Union for the Conservation of Nature (IUCN) in its formative period and invited businesses to embrace the responsibility that they share, to actively integrate sustainability in human and environmental terms into the operation of their businesses. The humanitarian outcome of Merrill J. Fernando's philosophy is delivered through his MJF Charitable Foundation www.mjffoundation.org
Dilmah Conservation engages in positive environmental interventions and its publications are intended to add to these initiatives by sharing knowledge in English, Sinhala and Tamil on subjects ranging from indigenous communities to snakes, birds, and national parks amongst others.
In line with its objectives to promote greater environmental awareness and accessible nature education, Dilmah Conservation engages in the publication and distribution of a series of publications focused on a range of subjects including biodiversity conservation and organic agricultural practices. Dilmah Conservation expects that these books will not only contribute to the conservation of Sri Lanka's natural and cultural heritage, but inspire further learning and research.
"I hope that this publication not only inspires a new generation of enthusiasts to undertake further study about butterflies and learn more about their intriguing habits, but also motivate readers to minimize the use of harmful chemical substances in their gardens so that local butterfly populations might flourish once again' Dilmah Founder, Merrill J. Fernando.
Dilmah Conservation is also engaged in the establishment of butterfly gardens towards supporting their conservation in urban environments. The butterfly garden at the Moratuwa MJF Centre is presently home to over 50 species of butterfly out of 245 recorded in Sri Lanka and is open to the public from 9.00am - 4.00pm every Wednesday.
Other books by Dilmah Conservation include: -A Pictorial Guide to Udawalawe National Park', -Indigenous Communities in Sri Lanka: The Veddahs', -Traditional Communities in Sri Lanka: The Ahikuntaka', -An introduction to Common Spiders of Sri Lanka', -Recognising Deadly Venomous Snakes from Harmless Snakes of Sri Lanka', and -Jaiva Vividhathwaye Sri Lankeeya Urumaya' (Our Biological Heritage).
Read more about this in the press at: http://www.island.lk/userfiles/image/2015/02/08/dilma.jpg